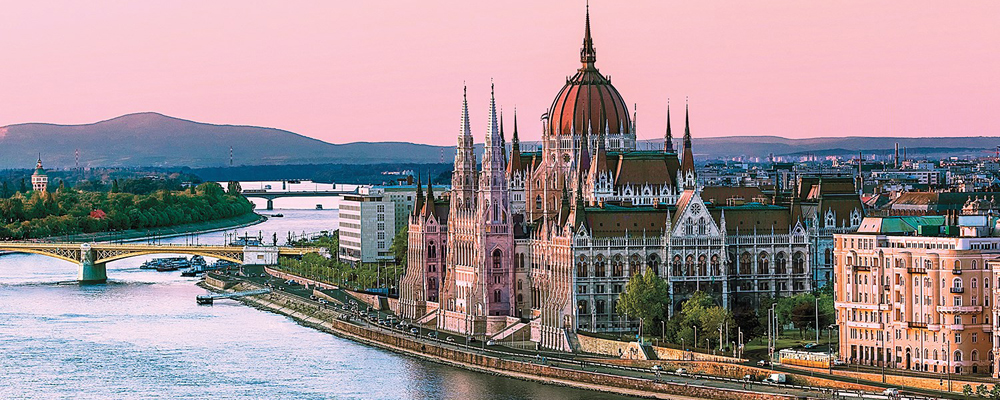 2021 / 2022 EUROPE PROGRAMS
Danube Cruise with Oberammergau 2022 13 Days
Your cruise starts with an optional one day precruise program in Budapest. Then on 22 May you embark on a 7 days Danube cruise from Budapest along the Danube to Vilshofen, Germany. City tours and excursions are include in the cruise program. Also included are all meals, port taxes, gratuities and beverages on the cruise. Your cruise ship, the AmaLea is one of the newest and most luxurious ship on the Danube and offers an unprecedented multitude of amenities. After disembarkation in Vilshofen you can add 3 more days to your program and attend unique and world-famous Oberammergau Passion Play 2022.
Departure Dates: May 21- Jun 02, 2022
Tour Price: from $ 5,995 (plus air fare)
Oberammergau 2022 - 10 Days from Frankfurt to Berlin
The history of the Oberammergau Passion Play dates back to the middle of the Thirty Years War. In 1633, after months of suffering from the Bubonic Plague, the people of Oberammergau took a vow to perform the "Play of the Suffering, Dying and Resurrection of our Lord Jesus Christ" every ten years if they were spared. Miraculously from that point on they all survived and true to their promise, the first performance was in 1634. This simple performance was held in a meadow and acted by the villagers. After 1674 they decided to change the date, so as to fall every ten years beginning in 1680. The only time it was not performed, was during World War II.
Departure Dates: May 26, 2022
Tour Price: $ $3,895 (plus air fare)
Germany,Austria,Switzerland & Glacier Express 2021 - 11 Days from Frankfurt to Berlin
Enjoy a faboulous tour through the European heartland.From alpine Switzerland and Austria to history ladden Germany, visit medieval cities and picturesque towns. Also included in our tour is a ride accross the Alps aboard the world famous Glacier Express, listed as one of the world's most memorable train rides.
Departure Dates: 09 October, 2021
Tour Price: $ 3,885.00 (plus air fare)
Iconic Christmas Markets on the Danube 8 Days
Celebrate the magic of the holiday season with a festive journey along the Danube River. After boarding your ship in Nuremberg, you will cruise through the charming region where so many of today's most beloved Christmas traditions originated. Experience a number of enchanting Christmas markets in places such as Regensburg, Salzburg, and Vienna, each with its own local flavor and traditions. Conclude your holiday cruise in Budapest.
Departure Dates 2021 with SPECIAL DISCOUNTS: 12/12, 12/13, 12/19
Tour Price: from $ 2,399 (plus air fare)
Departure Dates 2022 with SPECIAL DISCOUNTS: 11/27, 11/28, 12/05, 12/12, 12/16, 12/23
Tour Price: from $ 2,399 (plus air fare)
Christmas Markets on the Danube 8 Days
Experience timeless holiday traditions and elegant pageantry in four countries—Hungary, Austria and Germany. Let iconic capital cities — Budapest and Vienna — decked in holiday finery with glittering Christmas trees illuminated by thousands of lights, bells pealing from cathedral towers and children dressed as angels singing Christmas carols, dazzle you. Wander the stalls of Europe's most traditional and enchanting Christmas Markets, including Nuremberg, Regensburg and Salzburg, shopping for handcrafted toys and gifts, sipping hot mulled wine and inhaling the fragrance of gingerbread and roasted chestnuts. Cherish all the glory and magic of the season in grand European style as you cruise along the Danube during this festive time of the year.
Departure Dates 2021: 11/27, 11/28, 11/29, 12/05, 12/06, 12/12, 12/13, 12/19
Tour Price: from $ 3,299 (plus air fare)
Christmas Markets on the Rhine 8 Days
Take an enchanting 7-night Rhine River cruise that takes you through the fabled Black Forest region and the Alsace region. You will also visit Heidelberg and Cologne, famous for its majestic Cathedral and bustling Christmas markets. Conclude your winter adventure in Amsterdam, amidst the city's legendary canals and colorful holiday surroundings.
Departure Dates 2021: 11/25, 11/30, 12/02, 12/07, 12/09, 12/14, 12/16, 12/21
Tour Price: from $ 3,299 (plus air fare)
Theater Tour to London 11 Days
"All the world's a stage" is the theme of our theater tours led by Drew Martorella of TheatreWorks at the University of Colorado. Extensive sightseeing, lectures and backstage visits to the productions you see will expose you to the richness and vigor of England and the British Theatre. Six selectively chosen theater performances and expert lectures by your hosts make this tour an exceptional value.
MAKE YOUR RESERVATION EARLY
DON'T MISS OUT !!!
Take advantage of our small group discount: book four people on the same program and save $100 per person.
Included in all Tour Programs:
round-trip transatlantic airfares from U.S.available upon request
1st class hotel accommodationn
breakfast daily
lunches and dinners as indicated
extensive sightseeing
on-site lectures with knowledgeable experts
entrance fees
ground transportation by private deluxe coach
small groups