Rhine & Moselle Splendors - 7-NIGHT CRUISE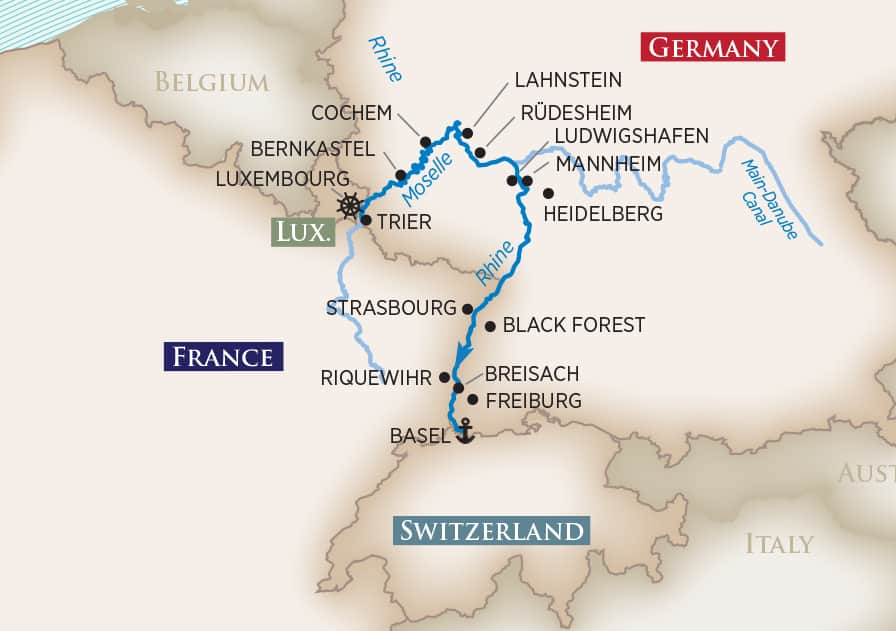 Day 1 :
EMBARKATION – LUXEMBOURG CITY, LUXEMBOURG
Board the ship for your Rhine & Moselle Splendors cruise. (D)
Day 2 :
SCHWEICH, GERMANY – TRIER – BERNKASTEL
Trier, Germany's oldest city, has often been referred to as the second Rome. Be guided to the Roman Imperial Baths, the Porta Nigra and Emperor Constantine's Throne Room. Or hike to Petrisberg Hill, where you'll take in a spectacular view of the city and its glorious spires. You can also cycle along the Moselle River past Trier's Imperial Baths, Porta Nigra city gate and other historic sites. During the afternoon, sail to Bernkastel, strategically located in the middle of the Moselle Valley's wine-producing region. Walk through the colorful Old Town center and past many medieval buildings before enjoying a wine tasting at a local winery. For those who prefer to be more active, trek up to the ruins of Landshut Castle, which dates all the way back to the 9th century, or pedal along the Moselle River from Bernkastel to Losnich and past the historic Abbey Machern, Roman ruins in the winemaking town of Erden and sun-kissed vineyards. (B,L,D)
Day 3 :
COCHEM – LAHNSTEIN
History comes to life in Cochem with its half-timbered houses and Reichsburg Castle. Join a guided tour through the castle, and then walk through its Old Town. For those wishing to have a more active exploration of the area, you can go on a guided hike to the castle. Or visit one of Europe's oldest mustard mills in Cochem (dating back to 1810) for a taste of its finest mustard recipe. Later in the day, sail along the Moselle, taking in the fascinating scenery before arriving in Lahnstein where you'll enjoy a visit to Lahneck Castle. (B,L,D)
Day 4 :
RHINE GORGE – RÜDESHEIM
Cruise through the captivating UNESCO-designated Rhine Gorge, the most stunningly beautiful stretch of the river, before reaching the winemaking town of Rüdesheim. Drink up the stunning views by soaring high above the vineyards with a gondola ride to the Niederwalddenkmal Statue, and afterwards be treated to a wine tasting. For a more active adventure, hike through the town's beautiful vineyards or join a guided bike tour along the scenic Rhine River to Schloss Johannisberg. Later in the day, let Siegfried's Mechanical Musical Instrument Museum charm you or taste one of the town's special delights, Rüdesheimer coffee, ceremoniously made with brandy, coffee and whipped cream. (B,L,D)
Day 5 :
LUDWIGSHAFEN
You have a choice of several excursions, depending on your interest. Visit Heidelberg, a perfectly preserved medieval city nestled in the Neckar River Valley along Germany's Castle Road. Alternatively, relive a bygone era on an excursion to the glorious Schwetzingen Palace and Gardens. Tour this splendid palace and wander through its gardens with more than 100 sculptures and an assortment of whimsical buildings. The Apollotempel houses a statue of the ancient Greek god of light and the arts, playing the lyre; and the most spectacular, the Türkischer Garten with a mosque, are a few of the many highlights you will see. For those seeking a more active adventure, hike the historic Philosopher's Path along the Neckar River or join a guided bike tour along the Neckar River to the medieval town of Ladenburg. (B,L,D)
Day 6 :
STRASBOURG, FRANCE
Strasbourg, the capital city of Alsace, has flavors of both France and Germany which you'll get to discover. Enjoy a panoramic bus tour past the stunning Parc de l'Orangerie, the European Parliament and the Place de la République followed by a walking tour through its iconic "La Petite France" district, which appears to have been lifted straight from the pages of a fairytale. You'll also see the Cathédrale de Nôtre Dame with its famous astronomical clock. The active adventurer can join a guided Old Town bike tour, which also takes you through the Parc de l'Orangerie. (B,L,D)
Day 7 :
BREISACH,GERMANY – BASEL, SWITZERLAND
Breisach is your gateway to several different excursions, depending on your interests. Step back in time with a visit to the enchanting Alsatian town of Riquewihr, which looks almost the same as it did in the 16th century. On your walking tour, admire historic architecture as well as famous sights, such as the Dolder Gate. Alternatively, you may wish to go to Freiburg, founded in 1120 and home to the Freiburg's Münster, a Gothic cathedral said to have "the most beautiful spire on earth." You also have the choice to go on a hike in the Black Forest, a magical land full of cultural traditions; or cycle through the scenic countryside. (B,L,D)
*Please Note: Black forest hike is weather dependent and may only operate at certain times of year. Please refer to your final documents for details.
Day 8 :
BASEL – DISEMBARKATION
Bid farewell to Switzerland and prepare for your return flight home. (B)
(B - breakfast, L - lunch, D - dinner)
TOUR PRICES & DEPARTURE DATES:Click Here for BEST-BUY quote.
2021 SAILINGS
EMBARK DATE
EMBARKATION CITY
DISEMBARKATION CITY
SHIP NAME
PRICES
May 25
Luxembourg
Basel
AmaPrima
$3,799
August 24
Luxembourg
Basel
AmaPrima
$3,899
September 14
Luxembourg
Basel
AmaLucia
$4,099
November 16
Luxembourg
Basel
AmaLucia
$3,099
2022 SAILINGS
EMBARK DATE
EMBARKATION CITY
DISEMBARKATION CITY
SHIP NAME
PRICES
May 10
Luxembourg
Basel
AmaPrima
$3,799
June 21
Luxembourg
Basel
AmaCerto
$3,899
July 19
Luxembourg
Basel
AmaPrima
$3,899
August 30
Luxembourg
Basel
AmaCerto
$4,099
September 27
Luxembourg
Basel
AmaPrima
$4,199
October 18
Luxembourg
Basel
AmaCerto
$3,899
November 15
Luxembourg
Basel
AmaPrima
$3,199
Note:
Important: Dates, prices & itineraries are subject to change.
Port Charges: $168 per person.
Single Supplement for Cruise: 50% of twin price; AA+ & Suites 100% of twin price. Please see terms below for details.
Bedding: Please select bedding configuration at the time of booking. Option A: Two twin beds Option B: One large bed (larger than queen size).
Reservation:
Terms & Conditions:
All rates are per person for cruise only, based on double occupancy in an entry level category stateroom unless stated otherwise. Offer is valid on select sailings only and applicable to new bookings only. Unless explicitly stated that single supplement is waived, solo travelers in a double occupancy stateroom must pay an additional single supplement amount before receiving any discounts. Ask about Solo Traveler promotions. Offer is not combinable with any other promotions/discounts, limited to availability, capacity controlled and subject to change or termination without notice. Port charges, land programs and round-trip airfare. Other restrictions apply. Registration as a seller of travel does not constitute approval by the State of California.
AMA-WATERWAYS
Click here to view: Deckplan of AMA-WATERWAYS River Cruise Ships
The brand new fleet of AMA-WATERWAYS ships are setting new standards in European river cruising and offer a number of features not found on other European river cruise ships. Clients will enjoy the luxury of more space, 2 panorama lounges, Fitness Center, Massage and Beauty Salon. There are 25 bicycles on board for you to explore the small towns and to ride on the many bicycle paths along the various rivers. The ships operate for the English speaking market only.